SILASCON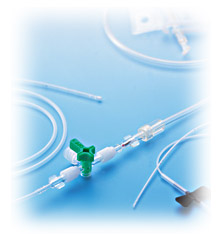 Making the most of silicone rubber's outstanding properties, SILASCON is Kaneka Medix's leading product brand.
"SILASCON" is our company's brand for medical devices made from medical-grade silicone, a material with excellent biocompatibility. Developed using our latest proprietary technologies for integrating silicone with Kaneka's polymer processing, SILASCON is synonymous with silicone medical products used in the fields of neurosurgery and general surgery in Japan. Medical-grade silicone has the following characteristics and shows outstanding efficacy when used for medical devices.
Biocompatibility
Antithrombogenicity
Flexibility
We remain a leader in this field owing to the above characteristics, strict quality control and continuous improvements made based on the advice of many healthcare providers.
SILASCON is a trademark owned and used by Kaneka Medix Corporation in Japan.

We have contributed much to the latest neurosurgery therapies in Japan by providing medical devices such as drainage tubes and hydrocephalus shunt systems. Drainage tubes are used when treating head injuries, subarachnoid hemorrhages and more. Hydrocephalus shunt systems are implanted in patients with hydrocephalus to guide excess cerebrospinal fluid pooled in ventricles to the abdominal cavity, so as to keep intracranial pressure at an appropriate level.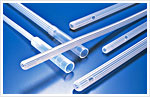 Our drainage tubes, which drain exudates, blood and so on from wounds after surgery, are the drainage tubes of choice for a large number of healthcare providers. These tubes see use today at the leading edge of medicine due to the medical-grade silicone's excellent characteristics.

We supply many other high-quality silicone products centering on the core lineup of medical tubes. We have also earned a good reputation and built widespread trust through the product demonstrations given to healthcare providers at the forefront of medicine, and develop and provide field-adapted accessories for these products.