Interventionnal Radiology Field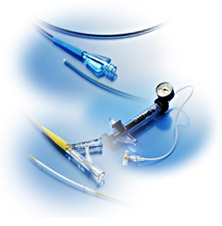 We contribute to the establishment of less invasive therapies by developing products with micro fabrication technologies.
We have served less invasive medical care by producing a wide lineup of catheters using the latest micro fabrication technologies. We have especially focused on "interventional treatment (minimally invasive treatment)," in particular for the vascular system, which makes the size of an incision smaller by percutaneous procedure. We have various lineups of products widely accepted in the medical field.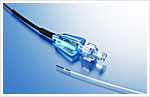 We strive to establish therapies in this field by producing "Percutaneous Transluminal Coronary Angioplasty (PTCA) balloon catheters", "thrombus aspiration catheters" and so on. They are used to treat arteriosclerosis, etc. in the coronary artery, which is important for providing the heart with oxygen and nutrition, and thereby make blood flow smoothly again.
Limb, Peripheral Artery Field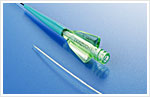 Arteriosclerosis in organs other than heart has been considered a problem recently. Detailed specifications must be adapted to each target because arteriosclerosis can develop in any vessel. We, therefore, offer a comprehensive lineup of products that can be used in every part of the body, and produce "Percutaneous Transluminal Angioplasty (PTA) balloon catheters" and others to manage a wide range of lesions.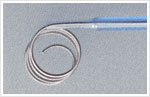 Rupture of a cerebral aneurysm causes fatal subarachnoid hemorrhage. We have contributed to the establishment of treatment in this field by developing the first "coils for embolization of cerebral aneurysms (ED COIL)" in Japan. The ED COIL detaches the embolization coil electrolytically.

Gastroenterological Field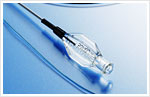 A "microcatheter" is a catheter for endovascular treatment of various lesions including malignant tumors and arteriovenous malformation. Our company's microcatheter has a high deliverability to peripheral vessels or target positions, as well as the ability to infuse medicine or embolization materials at high flow rate.

We work toward offering high quality products that are useful for interventional treatment, on an axis of catheters.