SILASCON® Spinal Drainage Kit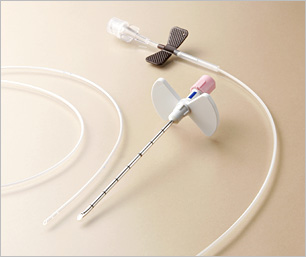 Easy-to-Use Kit
The Spinal Drainage Kit includes a spinal catheter, a connector with flaps and a lumber puncture needle.
Needle Insertion Depth Visible
The lumbar puncture needle has markers by 1 cm-interval, enabling easy check of the insertion depth of the needle.
Catheter Insertion Depth Visible
Blue line-markers at 5, 10, 15, and 20 cm from the distal tip enables to check the insertion depth of the catheter.
Drain inside Catheter Visible
The catheter is transparent and the drain inside the catheter is visible.
With Radiopaque Line
The catheter has radiopaque lines.
---