LACRIFAST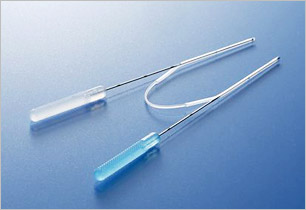 Enhanced Strength by Adoption of New Material SIBS
A composite of our unique new material SIBS* and polyurethane is adopted for the tube material, thereby enhancing the breaking strength, while maintaining the tube flexibility.
(* SIBS: Styrene-isobutylene-styrene block copolymer)
Ring at the Tip
A ring is placed at the tip for preventing penetration of a bougie.
Hydrophilic Coating
Hydrophilic coating on the tube surface enhances the insertability.
Opening the Tube distal tip
opening of the tube distal tip, ensures the configuration that biological fluids or the like hardly remain within the tube lumen.
Useful for Tube maneuveringunder Transnasal Endoscopy
Both ends of the tube are provided with different colors, which is useful for maneuveringunder transnasal endoscopy.
Confirmation of Insertion Position
Lacrifast has blue markings at 10 and 15 mm positions from the tube distal tip, thereby enabling confirmation of the inserted position.
Three Markings on Bougie
The bougie that comes with Lacrifast has three markings, which enables confirmation of the tube insertion position while maneuvering the the tube distal tip.
---