ED COIL10 Soft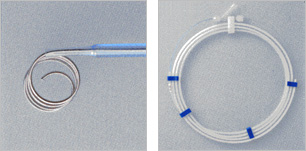 *This is English translation of web-site intended for viewers in Japan. Therefore, products shown may not be qualified for supply outside of Japan. Please send us message if you have any inquiries pertaining to products approval or supply outside of Japan.

Flexible Delivery Wire
Delivery wire Tip of 30 mm length is very flexible and atraumatic to blood vessels. It exhibits superior trackability in tortuous vessels and reduces the risk of catheter removal from aneurysms.
Both Flexibility and Unti-Unraveling

Inner wire is incorporated in all 10 types of coils to prevent stretching. The inner wire is very thin and made of the same material as the coil, thus providing both flexibility and Unti-Unraveling.
---
Fit Various Catheter Hubs
The sheath tip is colored and the sheath tip is tapered to fit various catheter hubs.

---