MA-03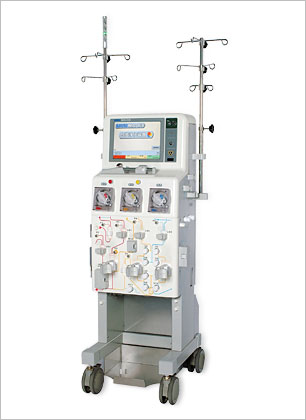 Comfortable Operational Feeling
A large (12.1-inch) color LCD operation panel provise improved operability and response of the touch-panel.
Memory Card Slot Featured
With the treatment data logging function, data of the operation status, alarm history, blood pressure fluctuation, etc. can be memorized in a compact flash memory card and retrieved on a PC (in Excel format).
---
Safety in accordance with Global Standard
The safety monitoring function that complies with the international standard (IEC 6060-1) is featured, wherein two microprocessors always monitor the safety of the treatment.
Setting-up of Optional Functions available
The automatic blood pressure monitor and the nurse call unit, which enable constant monitoring of the patient's state can be set up as optional functions.
---