SILASCON Spinal Drainage Kit II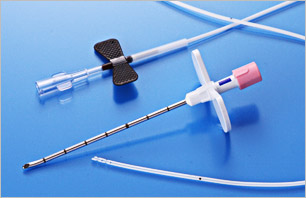 *This is English translation of web-site intended for viewers in Japan. Therefore, products shown may not be qualified for supply outside of Japan. Please send us message if you have any inquiries pertaining to products approval or supply outside of Japan.

Use of Polyurethane
This catheter is made of polyurethane.
Easy-to-Use Set
The SILASCON Spinal Drainage Kit II contains a spinal catheter, wing connector and lumbar puncture needle.
Easy to Confirm Depth of Inserted Needle
The lumbar puncture needle has markers spaced at 1 cm increments. These markers make easy to confirm depth of the inserted needle.
Confirmation of Depth When Inserting
The catheter has black markers spaced at 5 cm increments between 5 cm and 50 cm from the tip. The insertion depth can be confirmed when it is introduced.
Use of Radiopaque Line
The catheter has radiopaque lines.
---